Alum can be the perfect component for you if you're seeking a natural solution to achieve healthier-looking skin and hair.
Alum, also referred to as "phitkari," is a naturally occurring mineral with numerous advantages for the skin and hair. It has been utilized as a natural astringent and antibacterial for ages.
Phitkari benefits for skin are numerous and are well known for treating skin imperfections including acne and pimples.
Alum can be applied to the affected region of your skin after being diluted with water. If you want to assist your skin detoxify and regenerate, you may also add a few drops of alum to your bathwater.
Let's explore the phitkari benefits for skin and hair and get to know the ways you can use it for yourself.
Alum Benefits for Skin and Beauty
Phitkari has magical skin-lightening properties. You can use it to fade your dark spots and lighten the scars.
It reduces blemishes on your face, evens out fine lines from your face, and improves skin textures.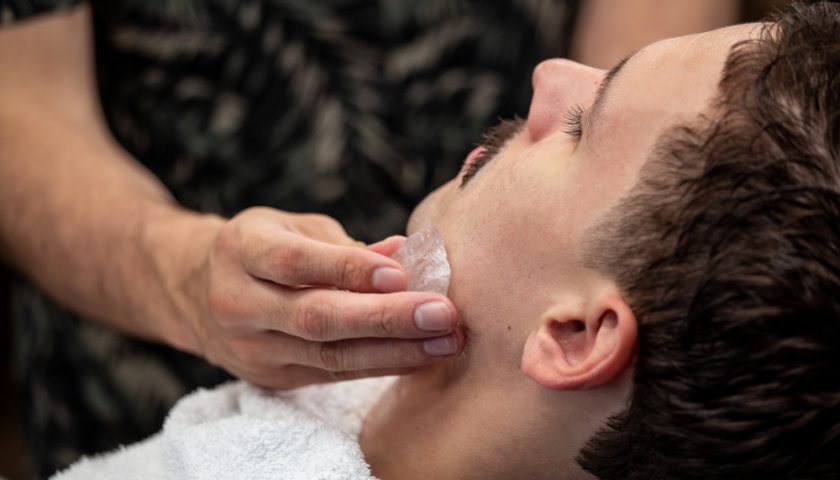 To know further about alum benefits for skin and DIYs where you can use alum for your skin, keep reading!!
1- Alum Uses for Skin Tightening
As we age, our skin becomes loose and saggy. It's the first sign of aging. But, NO WORRIES! Phitkari is here for you.
This natural element has an amazing quality of tightening your skin. It gives your skin a youthful look back.
All you have to do is to:
Make a paste of Phitkari with rose water and an egg.
Apply this pack to your face and leave for 30 minutes.
Use this pack once every week and you will see amazing benefits.
2- Phitkari for Wrinkles
Alum is a wonder ingredient to fight your face problems and wrinkles are one of them.
If you are worried about the wrinkles on your face, take a piece of Phitkari and rub it on your face. This simple trick can reduce the appearance of wrinkles on your face.
Don't forget to apply moisturizer after it, as alum can dry out your skin.
3- Phitkari Benefits for Acne Scars
Moving next to phitkari benefits for skin, it has the amazing property of reducing acne scars and dark spots on multiple skin areas. Here are some DIYs phitkari uses for you: 
Alum and Rosewater for Dark Spots: These two ingredients, when mixed, and applied to the face, can lighten or soften dark spots and puffy eyes, without irritating your skin.
Alum and Glycerin Toner: Take alum Powder. Add 5 drops of Glycerin to it. Add some Basil leaves, and add these to a cup of boiling water. After cooling it down, strain the mixture, and use it as a toner. You can use this toner after cleansing your face to see amazing results. It will also be effective for acne on the back.
Alum and Multani Mitti for Acne Scars: To get rid of acne scars for good, take alum powder and add 1 tbsp of Multani Mitti. Add 1 tsp milk and make a paste. Apply this on your face as a pack. Leave it for 15 minutes, and then rinse with lukewarm water. We assure you, that this pack will serve you well to get rid of acne scars and pimples.
4- Phitkari for Dark Underarms
Dark underarms are a common problem. The skin gets dark due to the usage of hair-removing creams, hormonal imbalances, irritation and abrasion caused by shaving, and accumulation of dead cells.
Are there any home remedies for dark underarms? YES!! If you apply Phitkari mixed with rose water, every week, on your underarms, it will help you lighten the skin of your armpits. In addition, you will also feel fresh afterward.
5- Alum as an Underarm Deodorant
Curious about how to get rid of the underarms smell? What if we tell that alum can be used as a deodorant as well, one of the benefits of alum for the skin.
Yes! alum has bad odor-reducing qualities. Research shows that alum has excellent antimicrobial effects against odor-producing bacteria. That's why it hinders the bad smell of sweat and produces a soothing effect with fresh-smelling armpits.
If you use it regularly in the summer, you will notice a visible difference all day. Your armpits won't sweat a lot, and you will feel fresh.
Go ahead! Use it on your underarms after a shower and get rid of awful summers and smelly armpits combination.
6- Alum for Blackheads
You must hate the ugly blackheads on your nose. Want to know an easy way to get rid of them? Use alum! Simple.
Make a paste of alum powder with rosewater. Apply it to your nose, and leave until it dries off. Wash afterward with lukewarm water.
6- Phitkari for Hair Removal
You must be surprised that alum has been used as one of the home remedies for hair removal since ancient times. Amazing, isn't it?
At a time, when chemical creams weren't in style, women used Phitkari for hair removal from their bodies. So, If you are tired of using hair removal creams, and want to try something natural, alum is your best choice.
How to use phitkari for hair removal? All you have to do is:
Make a paste of alum powder with 1 ½ cup of rosewater.
Apply this paste to the area where you want to remove hair from.
Wait for half an hour. Wash the paste with water.
Use it regularly to reduce the growth of hair.
You can also use it as an after-shave treatment as well. For that, simply apply alum after threading and waxing.
7- Alum for Cracked Heels
Adding further to the benefits of alum for skin it can help heal your cracked heels.
Alum has many skin-friendly properties and one of them is soothing and healing cracked heels. Alum helps to encourage the formation of new tissue and hasten the healing process when applied to cracked heels. Alum can also aid in preventing future recurrences of cracked heels.
How to use phitkari for cracked heels?
Heat phitkari in a clean basin. It will liquefy and foam when heated.
Heat it until all water has evaporated. You will get a crumbly material.
Await cooling and apply the powder to the afflicted region after combining it with coconut oil.
So, when used regularly, alum can help to keep the feet soft, smooth, and healthy. For best results, alum should be applied to clean, dry skin.
8- Helps Treat Canker Soles
One of the other benefits of alum for skin is it can help treat canker soles.
So, how to use phitkari for canker soles? For that:
Just take a pinch of alum.
Put it over the canker soles.
Repeat this 2 to 3 times per day until your soles are healed.
For best results, alum should be applied at the first sign of a canker sore.
9- Alum Uses to Enhance Teeth Beauty
Unquestionably, one of the main causes of foul breath is the buildup of bacteria, which creates toxins and acids. By using an alum mouthwash, you may both stop bacteria from growing and get rid of them.
Just dissolve one gram of alum and a dash of rock salt in a glass of warm water, and then use the mixture to rinse the mouth. Drinking is not advised because it may make you feel queasy.
You can also make a paste of phitkari, rock salt, and cinnamon powder to massage into the gums and teeth. This will help treat bleeding gums and dental cavities. You can learn more about home remedies for gum bleeding disease.
Phitkari Uses for Hair
Alum has many uses for hair as well. Some of the phitkari uses for hair are as follows:
10- Alum for Dandruff
Alum fights dandruff in your scalp. If you mix a pinch of Phitkari in your shampoo, and apply it to your hair, twice a week, it will help you in removing dandruff from your head.
If you are having chronic dandruff, and want some intense treatment, read about dermatologists' proven ways to treat scalp issues.
11- Alum for Lice Treatment
Alum is frequently used in the treatment of lice because it aids in the death of the insects and their eggs. Additionally, it helps to reduce inflammation, tighten pores, and eliminate dead skin cells.
Alum can also be used as an astringent to help clean the skin and get rid of surplus oil. For these reasons, using alum to treat a lice infestation is a great option for anyone looking for a secure and efficient solution.
To use alum for lice treatment:
Just mix some alum powder in water and oil.
Apply this mixture to your hair.
Wash after some time.
You will be happy to notice that the lice will be gone in no time.
12- Phitkari for Hair Colouring
Alum is a chemical present in many minerals. You may use it to turn your grey hair into black. How?
Make a paste by combining ground alum powder and rose water.
Apply this paste to your hair, allow it to dry, and then rinse with normal water.
If you do this every other day for at least two weeks, you will see a difference.
Phitkari Side Effects
When applied to the skin, alum can potentially cause some negative consequences.
An allergic reaction, which is characterised by swelling, itching, and redness in some persons, is possible. Alum can also occasionally result in chemical burns as well.
So, if you have sensitive and dry skin, you must be cautious of using alum too much. Always do a patch test before you are using it on your skin.
If you experience any adverse effects, discontinue use and consult a doctor.
Ending Note!
Alum really is a gift to humanity. If you explore the uses of Phitkari and add them to your daily life, you will be surprised to see so many of your problems solved, just like that.
We hope you've found our website and weekly content helpful in keeping up with the latest digital healthcare trends.
At Healthwire our mission is to empower patients and improve healthcare, so subscribe to Healthwire today and tell your friends about us too!
Thank you for being a part of the Healthwire community.If you want to know more about alum and its benefits for your skin, you must reach out to a well-known Dermatologist in Lahore. You can book an appointment via Healthwire or you can call at (042) 32500989.