If you have clicked this post, it's very likely that you or someone you know has lost teeth or will lose teeth in the near future, and you'll need to figure out how to replace them.
Fortunately, there are a variety of great solutions for replacing your missing tooth or teeth and restoring your attractive smile.
Here I am going to enlist in detail those options for replacing a missing tooth.
Keep reading!
Fake Teeth Options to Replace Missing Tooth
A missing tooth might result in decreased bone strength and jaw density. Also your remaining teeth may shift, resulting in gaps and biting problems.
To avoid these problems, speak with your dentist about the finest tooth replacement choices suitable to you! They can assist you in finding a solution that matches your budget, lifestyle, and keeps you comfortable.
The following are some fake teeth options .
1- Dental Implants
Dental implants are one of the most popular options for replacing a missing tooth. A dental dental is made up of alloplastic materials implanted into oral tissues. It looks and feels just like a natural tooth.
If you need to replace a single tooth or many teeth in different regions, dental implants are a permanent solution.
The procedure for installing a dental implant can be time-consuming. It starts with the root of your tooth being replaced by metal screws, which will serve as an anchor for the false teeth that will be placed on top.
After the screws have been placed, you must wait a few months for the implant to heal, during which time it will become securely attached to your jawbone. A dental crown will be placed on top of the implant after it has healed completely.
Pros of dental implants:
They have a very natural appearance and feel.
They are a permanent, lifelong replacement that does not require routine maintenance.
Treatment success rates are around 90%.
Only tooth loss treatment that prevents jawbone deterioration
Cons of dental implants:
The implant is screwed into the jawbone, which necessitates invasive surgery, a lengthy recovery period, and the risk of infection.
The most expensive fake teeth option – costs between $3000 and $6000.
When compared to alternative options, treatment takes longer and involves more dental appointments.
Also read about ways to for personal oral care.
2- Implants Crown and Bridges
Implant crowns and bridges are both implant-supported restorations. They're used by the dentist to replace teeth that have been pulled or are missing.
Implant crowns are the best option for replacing one missing tooth in the front or back.
On the other hand, for numerous lost teeth in a row, an implant-supported bridge is the best option.
Pros of implants crowns and bridges
To design a new bridge to replace your missing tooth, the dentist will not need to grind any of your healthy teeth down.
They appear and feel natural, making it simple to speak and smile and letting you eat comfortably.
They're simple to keep clean – just brush and floss them like conventional teeth.
They will last for a long time before needing to be replaced.
Cons of Implant Crowns and Bridges
The amount of dental visits necessary for implant crowns and bridges is the biggest disadvantage. The overall therapy time will likely be between three and six months.
The number of visits to the dentist to replace a tooth or teeth with an implant crown or bridge will depend on your oral health and the specific treatment you select.
3- Tooth Supported Bridge
Instead of inserting two implants in your teeth, a tooth-supported bridge uses your existing teeth to support the bridge. It involves cementing a crown into place on the teeth that are close to the lost ones.
Pros of tooth supported bridges:
A tooth-supported bridge has the same natural appearance and feel as a dental implant.
Because surgery is not necessary, the procedure is less invasive.
In comparison to dental implants, a tooth-supported bridge is a less expensive choice.
Cons of tooth supported bridges
The surrounding teeth receiving crowns will need to be filed down to the proper size for the crown to fit, increasing the risk of infection in the future.
If the bridge is poorly placed, the adjacent teeth may be harmed over time.
Food particles can get trapped beneath the bridge and become difficult to clean, increasing the risk of infection and bone loss if you aren't attentive.
Read about how to protect brittle teeth.
4- Removable Partial Dentures
Next fake teeth options include removable partial dentures.
Removable partial dentures are recommended for people who have a few missing teeth, as opposed to a full set of dentures.
Removable partial dentures are clasped into place, ensuring that the fake teeth are held in the precise positions.
Pros of removable partial dentures:
If any teeth are lost in the future, additional teeth can be inserted straight to the partial denture, saving you time and money.
Removable partial dentures are one of the most cost-effective options for replacing a missing tooth.
Repairing and replacing partial dentures is simple.
Partial dentures are simple to use and simply require the installation of metal clasps.
Cons of removable partial dentures:
Daily cleaning and removal of dentures are required, as well as removal before sleeping.
Because the metal clasps on partial dentures are visible, they do not blend in or appear as natural as dental implants.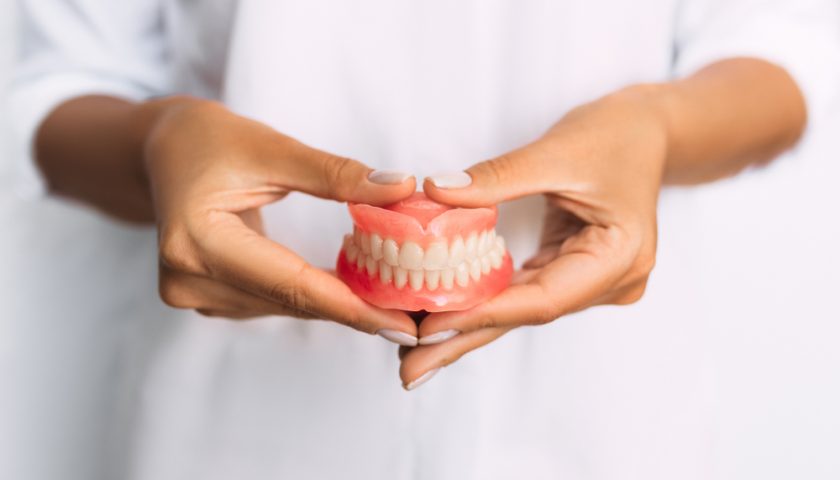 5- Removable Complete Dentures
Removable full dentures are a low-cost, non-invasive alternative to dental implant therapy that lay on top of the gums. Dentures are made up of a gum-colored acrylic foundation with denture teeth affixed.
Pros of removable complete dentures:
Replaces damaged or decayed teeth, restoring face proportions and generating a more young look.
Can assist in improving speaking and eating comfort.
Treatment is relatively quick and inexpensive.
They appear real because they are available in a variety of forms, hues, and sizes, and gum tissue can be closely matched to your natural gums.
To suit the changing shape of the jawbone, it can be relined or modified.
Cons of removable complete dentures:
As the jawbone changes shape, it might become ill-fitting in a short period of time.
They must be taken out for cleaning and left out overnight to allow the gums to heal.
The strain of the denture sitting on the gums and jawbone might accelerate bone loss in the jaw.
Can cause unpleasant stinging areas on the gums.
Adhesives for dentures are frequently untidy and do not provide a long-term solution.
When you speak, you may generate a clicking sound, which can be awkward in social situations.
Take Away!
Whether the tooth was lost due to an injury, gum disease, or decay, there are several excellent options for replacing the missing tooth. Each option has advantages and disadvantages that a dentist can help you consider based on your unique needs and budget. If you're missing a tooth or teeth and want to learn more about your choices, call at 042 32500989 or make an appointment via Healthwire.pk to get consultation with the best dentists near you.