Hey! Have you heard of fungal acne? It's just like regular acne but there is a twist. While other acne types occur due to bacteria, this one is caused by yeast attacking your skin.
Crazy, right?
Let me make it clear, it is not just for people with oily skin, but it can occur to anyone. If unfortunately, you've become the culprit of this, you might notice small bumps on your chin, cheeks, and jawline.
These itchy bumps on the skin are often mistaken for white or blackheads.
While it is not a contagious condition, or something very serious, it is still very important to understand it.
What is Fungal Acne?
Fungal acne is not really acne, it is mainly the blockage of the pores due to sebum production and bacteria with inflammation. According to research, fungal acne is actually a fungal infection of the hair follicles by Malassezia (known as pityrosporum previously).
While mistaken for regular acne, (acne vulgaris) the cause is completely different. Oil glands a.k.a. Sebaceous glands naturally keep the skin protected against friction and make the skin more impervious to moisture. Acne occurs when the pores (dead skin cells) are blocked with dead skin cells or sebum.
So, fungal acne in short is caused by yeast growth on the skin. It occurs in the sebaceous glands and the pores become inflamed causing fungal acne.
Let's explore what it looks like.
What does Fungal Acne Look Like?
Fungal acne can most of the time be confused with a typical whitehead or a papule. The lesions are seen to be grouped together with white bumps or red bumps of very similar size of 1 or 2 mm.
It can occur on any part of the body, but most of the time, it can appear on the forehead, hairline, upper chest, temples, and mid-back.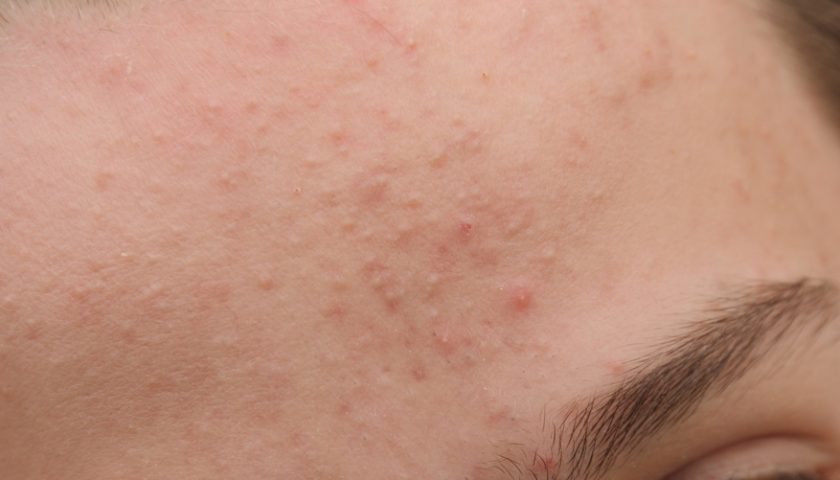 The bumps can get worse due to certain factors;
Overmoiturizing
Use of too much sunscreen
Use of antibiotics to kill bacteria resulting in fungus growing
Application of makeup that clogs pores
Sweet
Very greasy skin
Tight-fitting clothes block pores and increase fungus growth
On the other hand, regular acne comes in a variety of forms like blackheads, whiteheads, nodules, and papules,
Best Fungal Acne Treatment
Fungal acne in its initial stages is easily catered at home, and if the bumps have gotten worse due to some other reasons, then medication is often prescribed.
Tea Tree Oil
One of the best ingredients that one can invest in while treating fungal acne is tea tree oil. This nutrient-rich oil is sourced from the melaleuca alternifolia plant which is a great antifungal and antiseptic in nature.
Experts at Shifa International Hospital say the compounds present in tea tree oil are known for killing Malassezia and infecting the skin. At the same time, it stays very gentle on the skin.
How to Use
The best way to use tea tree oil for fungal acne treatment is to dilute it with a carrier oil. You can use jojoba oil or olive oil here. You only need 1 to 2 drops of tea tree oil and mix it with 10 to 12 drops of carrier oil. Use a reusable cotton pad and dab the mix slightly on your affected area. Wait for it to dry. That can also be used for spot treatment with the help of Q-tips.
Azelaic Acid
Azelaic Acid, itself is a by-product of Malassezia, which makes it one of the most effective treatments to help get rid of fungal acne.
It works by regulating the fatty acid content of the skin. Now, the ideal environment needed by yeast to thrive is moisture which is rich in fatty acids and oils.
So by reducing the fatty acids, the yeast population on the skin can be regulated as well.
Dr. Mahvish Aftavb Khan, a top dermatologist in Islamabad says that Azelaic acid is very gentle on the skin and is safe for almost all skin types. So, you can easily use it on the skin for the long term to keep it healthy.
How to Use
The best and most effective way to use Azelaic acid on the skin is in the form of a serum. It is best to use a single-use formulation or something that has a high Azelaic acid content in it. Make sure that you are consistent with the use and do not forget to apply moisturizer afterward to lock the treatment into the skin.
Give a read to Best Acne Creams in Pakistan to explore more.
Salicylic Acid
Salicylic acid is another very effective ingredient that is used to treat fungal acne. This ingredient works best by exfoliating the skin, which in return unclogs the pores.
This can then help a lot in keeping your fungal acne-prone skin protected from the growth of yeast. It also helps a lot in getting rid of the patchiness and dullness on the skin that comes along with acne.
How to Use
There are a number of ways by which salicylic acid can be used for fungal acne. You can make SA-infused face washes a part of your daily skincare routine, or you can also use serums that can help in treating the fungal acne overnight while you are asleep.
When to Visit a Dermatologist
Fungal acne is not acne itself but actually a fungal infection that is caused by the extra growth on the skin. Now, if you have tried out all the above-mentioned treatments and are still struggling then it is the best time to visit the best dermatologist near you by contacting Healthwire.
FAQs
1. Can you use honey to treat fungal acne?
Yes, honey has great antimicrobial properties and is intensely moisturizing to the skin. You can use it by applying a layer on the skin and can leave it on for 25 to 30 minutes. Wash it off later with lukewarm water.
2. Can apple cider vinegar treat fungal acne?
While apple cider vinegar has great antimicrobial properties, it can work great for fungal dandruff. Its effects on fungal acne are next to none.
3. How can I tell if I have fungal acne?
Fungal acne can be diagnosed by a dermatologist but a few signs that can help in the detection of fungal acne are small bumps seen on the cheeks, jaw, or on the forehead.
4. How long does it take to clear up fungal acne?
The length of time taken for fungal acne treatment can vary from person to person. In general, it can take weeks or even several months for fungal acne to get better.