Every woman loves to look beautiful in both ways, with sharp features using makeup and naturally. Well, not every person has healthy skin or knows proper makeup techniques. But makeup sits on your skin only when you have healthy skin. Anyone can maintain skin health by following beauty tips.
If you do not know how you can keep your face skin fresh and make your features look sharp, this article will help you learn.
Face Beauty Tips
You should focus on every part of your face and also your hair to prevent potential damage. The following beauty tips can help you maintain skin health.
Skin
Before bed, you need to take care of your skin by applying a little bit of apple cider vinegar. It is one of the best skin care tips that promote your skin health and also brighten the uneven skin tone. You can use a cotton ball to apply the apple cider vinegar at night. The next morning, wash it off.
You will notice your skin brighten after washing your face. You should apply a moisturizer and leave it for a few minutes.
Now, you can apply makeup but always choose high-quality products.
You need a foundation that matches your skin tone. Experts often suggest brushes.
At night, use a cotton ball and makeup remover of a known brand. You can get benefits from rose water to remove makeup.
Exfoliating your skin twice a week and keeping it moisturized are the most effective ways to make your skin radiant.
One of the best skin whitening tips is to try a home-made mask. All you need is to take two tbsp of gram flour, add a few drops of lemon and mix it with yogurt. You need to mix it well and apply it on your face for at least 20 minutes. It will hydrate your skin and also improve the skin tone.
Lips
Your lips also contain dead skin cells that can make your skin look rough. The best technique to get rid of your dead skin cells and rough skin is to use your toothbrush and exfoliate the lips with soft bristles. The other way to get rid of rough lip skin is to use a lip scrub. The next step is to moisturize your lips and get quality sleep. You can use petroleum jelly or Vaseline.
When you wake up the next morning, you can see the smooth layer of your lips. When it comes to makeup on your face, the lip color completes your makeup look. Applying any lip color will look more natural in this way.
Eyes
People who experience puffy eyes in the morning should try storing eye drops in the fridge. If you wear contacts, store them in the fridge overnight which will help to reduce puffy eyes and redness. Nude eyeliner is also a good fit to reduce eye redness.
Some eye products can also cause redness and irritation. You should choose high-quality makeup brands to prevent eye redness. Experts suggest cleaning the makeup brushes every week to reduce eye infections.
You also need to avoid sharing your eye makeup and brush with others because it can spread infection from one person to another.
For your eyelashes, you can apply castor oil to promote their growth and fullness. When you wear makeup, apply mascara in both directions, down on your lashes first and then upside down. It will make your eyelashes look thick and increase the volume.
Nose
Makeup and other environmental factors cause blackheads or white on your face, especially on your nose. You should cleanse your skin with a cleanser that will remove dead skin cells. The contouring kit can help to shape your nose when you wear makeup.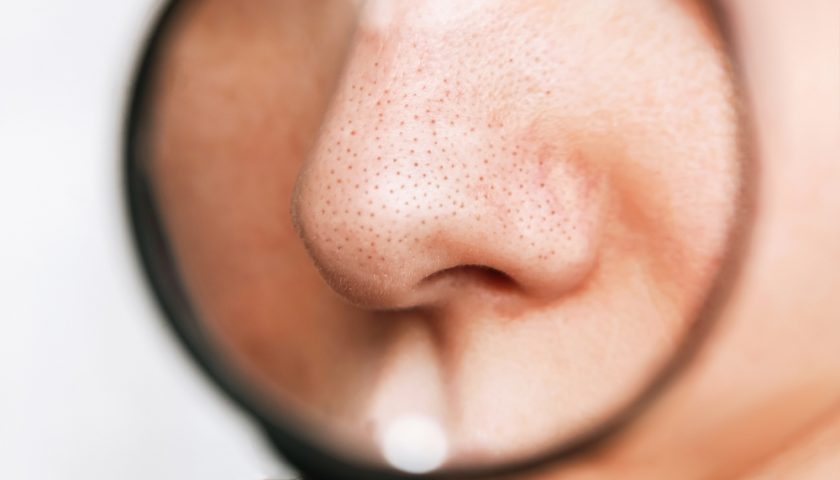 Hair
You also need to take care of your hair as it impacts your overall look. Using hair products that contain harmful chemicals can cause severe damage and even result in hair falls.
Massage your hair with coconut oil and leave for at least 30 minutes. The next step is to wash it off and let your hair dry naturally. If you want a blow dryer, apply a serum first and then use a dryer to reduce potential damage.
Here are some other tips for healthy skin you need to follow.
Avoid taking a long bath as it can remove natural skin oils
Use a mild soap to prevent natural skin oil loss
Exfoliate your skin twice a week
Use a clean towel to pat your skin dry
Moisturize your skin to keep it hydrated
Protect your skin against UV harmful sun rays
Eat a healthy diet rich in essential nutrients
Drink plenty of water
Change the pillowcase every second day
Enjoy Radiant And Glowing Skin!
Early skin care can also delay the premature aging signs and keep you looking young. Using makeup of high quality will prevent skin damage. Beauty tips can help you get radiant and glowing skin. You can consult the best dermatologist if you have acne breakout to prevent stubborn marks or scars.