Healthcare has always been an expensive sector. The costly tests and the hefty hospital bills that put you on the mere verge of poverty line also contribute to the overall expensive experience.
Even many procedures are not covered in health insurance in the first world countries whereas the third world countries did not have a stable and functional healthcare department so it will not be wrong to say that the healthcare sector needed improvements and amendments since a very long time.
There have been workings and long held discussions about the methods that can change the whole system and can give people necessary confidence to share their health related issues and get the best possible solution.
But there were only discussions and plans in books until the pandemic Covid-19 was set in. The world was compelled to change the outlook on the healthcare sector creating new rooms for the development of Remote Patient Monitoring RPM programs. A poll conducted by the Medical Group Management Association on the expanded practice of telehealth due to the current pandemic, 97% medical experts have given votes in support of this notion.
Here we will get into the details of the remote patient monitoring system and will get to know how this method can be used to play a conducive role in bringing health and life of every human being on the top of priority list.
Remote Patient Monitoring System
What in reality is a remote patient monitoring system RPM? And how does it work?
Well RPM is based on a comprehensive plan delivering in-home services. For this reason, it is also called a remote home monitoring system too.
There are certain instruments that are used in this procedure and they may include the followings:
Blood pressure apparatus
Thermometer
Weighing scale
Pulse oximeter
Glucose measuring device
Heartbeat recorder
The information that is recorded on these devices is immediately sent to the healthcare service providers. There are monitors that will help to keep a record of everything and will help you to keep yourself updated with the progression of your ailments.
Read here to know more about the benefits and related concerns on laboratory management information systems.
Managing RPM
There are different service providers that can manage the RPM system.
This may include intern doctors or nurses. This will also help to give this sector the necessary confidence to lead in any critical conditions. Also they can have a better chance to link with other senior doctors and they can develop their skills.
There are some other third party service providers as well that are providing the services of managing the remote patient monitoring system more effectively.
There were surveys conducted post programme that showed the startling results where about 91% of the the patients were highly satisfied with their remote patient monitoring program and they were willing to suggest it to other people as well.
The Difference between Telehealth and Remote Patient Monitoring Programs?
This question may pop up in your mind when you hear these two terms. And this is quite natural to have such concerns and qualms that what is the difference between telehealth and RPM?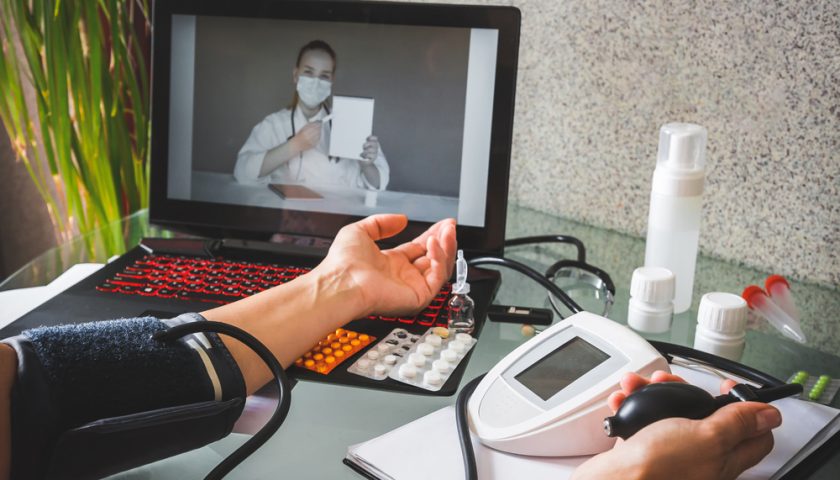 Both of these programs do aim at developing the sense of quality health for everyone and there are advancements being made in this regard.
So what in real life made these programs different?
The answer to these questions is in understanding the basic definitions of both.
In telehealth, you are contacting your doctor over the phone and you are making an appointment for a video or voice call that is simply a proxy for an in house visit to the doctor. Your Doctor will suggest you different medicines and all with the necessary precautions. But the information that your doctor has in this regard is very minimal. The doctor is unaware of your blood pressure and blood glucose levels at that instant.
Whereas in the case of a remote patient monitoring system, the health care provider is getting the exact and detailed information about your blood pressure and blood glucose levels.
Hence making this remote home and patient monitroing method far more suitable. But on a general line, these methods can be used in conjunction with each other. And this will help to change the perception of healthcare services and will do great benefits for mankind.
Side: There are many other benefits of telemedicine which you need to know. Don't miss them out.
Benefits of Remote Patient Monitoring System
This is a non conventional method that makes use of technology for the patients' monitoring at the comforts of their houses. That's why this method is sometimes referred to as remote home monitoring as well.
Technically speaking it is a treatment plan that is offered outside the vicinity of the hospitals and clinical settings.
The main goal was to increase the access to the health department but without putting extra and gigantic strain on one's pocket.
This has given benefits to the downtrodden sector of the society to get treated with the best guidance available at hand.
The socio economic factors are to be blamed in this regard as they have created the disparity among the people. The underserved sectors of society are living in terrible health conditions around the world. There can be other factors that can be attributed to this disparity which may include lack of education, lack of equal facilities and racial disrmination.
But the hope is linked with the remote patient monitoring programs that will help to reduce this discrimination among the sectors of society.
There are many other benefits of remote patient monitoring systems which are listed down below:
1. Prevents the spread of diseases
There are less visits of patients in the hospitals that means there are less chances of spread of infections.
This is important in the cases of outbreak of viral diseases and pandemics that can make the spread more violent and larger populations are affected by it.
2. Reduced mortality rates
As already discussed, the underserved sector of the society often feels left out and they cannot cope up with their health issues. But not only the underserved sector is facing the issues there have eeb issues with other sectors of the society as well.
This can result in more deaths in society. By these revolutionary methods we are aiming to develop a sense of entitlement for every other human being.
They will come forward and they will discuss their issues in an open way. Thus reducing the mortality rates around the globe.
3. Build trust of patient
Patients will develop trust in a proper healthcare system rather than a quack system which is prevalent in many countries.
They will be more satisfied and will find themselves in the best of their health.
Pakistan and Remote Patient Monitoring System
Pakistan has its major population residing in far flung and underdeveloped areas. People don't have the means to access the health care centres and hospitals. Nor do we have enough hospitals built in the rural areas that can cover a major part of the population.
In that case getting the check ups done at the doorstep is a big thing.
The need of the hour is to develop the remote patient or home monitoring systems. Telehealth should be made available for every citizen of the country. That is the only way to deal with many other problems like
Poor health infrastructure
Less number of doctors
Bad economy to support the already existing healthcare system.
Let us Wrap it Up!
Proper seminars should be displayed and advertisements should be placed to let the general public be aware of all these revolutionary steps.
Remote patient monitoring systems are the next big thing.
Though a detailed and systematic planning is required in this regard. We at healthwire.pk aim at promoting the information on health more publicly and responsibly. If you want to get yourself updated about the news and blogs on health and general life, visit our website healthwire.pk.