Ah, the first bath – One of the first bonding times for every new parent and their little cuddle bug. It is a moment of nervous tension and overwhelming love, as you finally get to wash the traces of the delivery room and welcome your baby to the world of giggles and bubbles.
But, let's be real, a baby's first bath can be a bit intimidating, especially if you are a first-time mom navigating the maze of baby care. That is why I have put together this guide to answer the most common questions new mothers have about bathing their babies.
From how often to bathe them, to when and how to bathe them, I have got you covered. So, grab a towel, and let's dive in.
When Should NewBorn Get Their First Bath?
Confused about when to give your newborn a bath and when the baby's first bath should be? The scheduling actually is entirely up to you as long as you pick a moment when you won't be interrupted or tempted to hurry through the bath.
You should probably plan for your baby's first bath within a week after the birth. It is best to avoid bathing your baby right after they have been fed. This is because the food needs some time to settle a bit. Also, in my opinion, you should also skip bathing your baby if he/she is overly tired.
A 2013 study found that delaying a baby's first bath in the hospital until at least 12 hours after birth led to an increased breastfeeding success rate.
As far as the time is concerned, experts working in top hospitals of Lahore i.e. Hameed Latif Hospital and Doctors Hospital say that babies are usually seen to be more active in the morning. This is appealing to some, though others may take off in the early evening as part of their goodnight activities.
When it is time to wind down, make that the time for the baby's first bath as part of their relaxing routine. Add a little nursing bottle or session, a little poem, and a book to that.
How Often Should You Bathe Your Newborn?
Until the time the baby starts to get down and start to get their clothes dirty, there is no need to give them a bath every day.
When babies aren't mobile, they cannot really pick up a lot of dirt. So your baby only needs a bath two or three times a week. Too much bathing can dry out your infant's skin really badly. Newborn bath should only include sponge baths until the umbilical cords dry up and fall off.
The best pediatrician in Pakistan Dr. Nida Badar says that If the umbilical cord is still intact during the baby's first bath, or if the circumcised penis has not healed, avoid tub baths altogether. At that time, just use a baby washcloth or your hands to give the baby the cleanups.
What is the Best Water Temperature for a Newborn Bath?
The best temperature for a newborn to take a bath is around 100f or 38°C. The best way is to check the water temperature with your hand before bathing the baby. Also, make sure that the room is comfortably warm too. A wet baby can get really chilled easily.
Read home remedies to help fight heat rashes in babies to explore more.
How to Bathe a Newborn?
Now once that you have picked a place and the right time to give your baby's first bath of their life, reading these steps along with some tips will make the process easier for you.
Make a Routine
Your baby's bath time routine will help you set up their body lock especially if you do it in the evening. "Mommy and daddy are giving me a bath – that means it is almost time for bed."
You can reinforce this sleepy-time message by turning off the lights and keeping the noise and activity down after the bath is over. And it is completely fine if any other time of the day works for you and the baby.
Check Baby's Mood
You must however postpone the newborn bath if you think your baby is not in a mood, is cranky, hungry, or has an upset tummy.
Gather the Supplies
Remember that you cannot leave your baby alone during the baby's first bath or at any time. So make sure that you have all the supplies with you before you start the bath. Also, nobody likes to search for supplies with a wet baby in their hands.
These essentials that you will be needing include, cotton washcloths, shampoo, a plush towel, baby soap, cotton balls, and a plastic wash basin. A set of clean clothes, diapers, and diaper ointment will also be needed after the bath.
Record the Moment
Wanna remember the moment? Ask any of the family members or your partner to bring a camera, and record the process.
Keep it Toasty
Babies can lose their body heat very quickly, especially when they are naked. Make sure that the bathing room for the baby's first bath is at a good temperature between 75 to 80 degrees. A bathroom can be warmed up by using the steam from the shower.
You can also use a warmed-up cloth on the exposed parts of the baby's body to keep them from getting cold.
Whether you are using an infant tub or a sink, fill it first with just water to cover the bottom of her body with about 2 inches of water. Do not put the baby in the tub when the water is still running. The water temperature must be warm and not hot. You can check it by dipping your palm or inside of the wrist as these parts are more sensitive than the others.
Turn the cold water at the start or the end to avoid any kind of burning on your baby's first bath.
Get a Grip
Slide your body gently in the tub, feet first, holding her securely with one of the arms under the head of the bay. Use your hand to grasp her underarm farthest away from you, the other supporting the baby's arm.
The baby might be slippery as a fish but you will soon get the hang of how to hang on to the baby. Once she is in, avoid letting her sit for long as this can irritate her skin or get her chilly.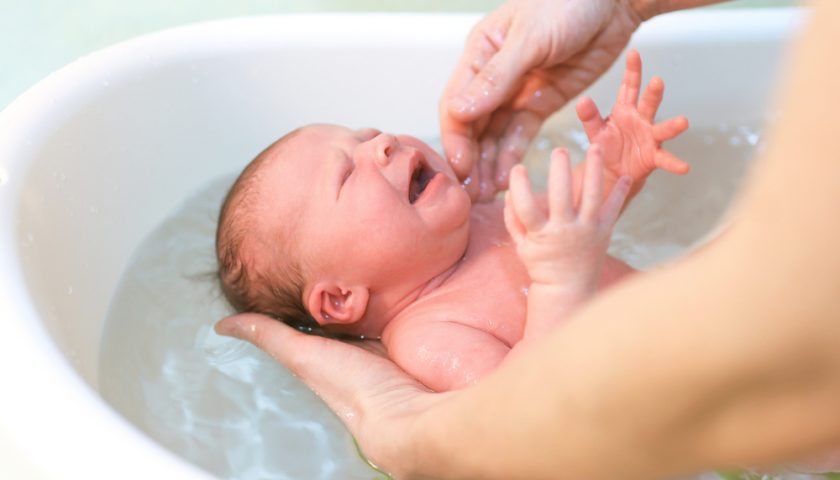 Soap Up in Moderation
Yes, soap is used for a newborn's first bath, but pick a mild one and focus on the baby's hands and the diaper area when you are bathing. You can use just water on the rest of the baby during the baby's first bath if they are not that dirty.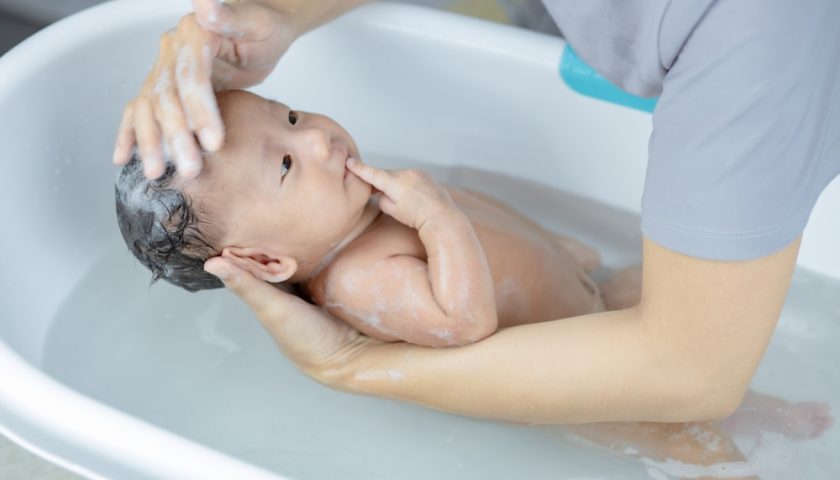 Focus on the Face First
Dip a corner of the washcloth or cotton ball in warm water and gently wipe one eye from the inner corner outward. Then use a different corner for the other eye in the same manner.
Now wet the washcloth again and wash the baby's face. You can use a little bit of soap here. Use it around the mouth where there is drooling, and use the cloth inside and behind the ears as well.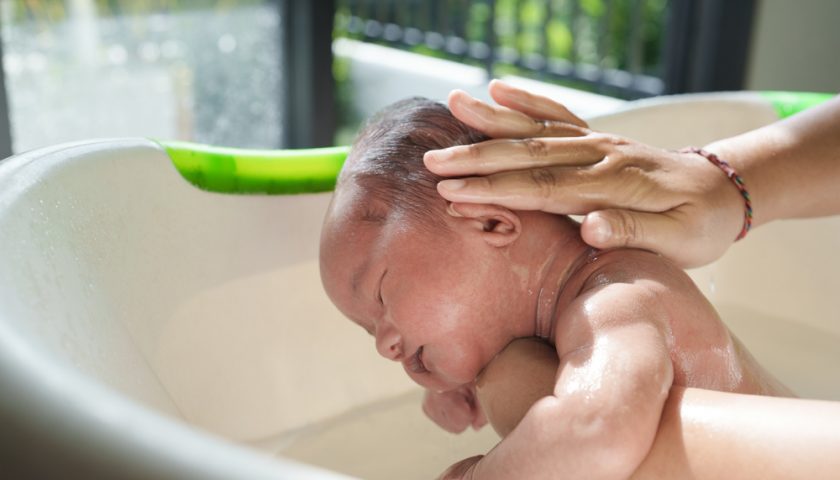 Wash the Body
Dip the washcloth in warm water and wash your baby's neck and torso. Clean around the umbilical cord if there is still a stump during the baby's first bath. Wipe the crustiness around it. Clean the hands and the finger afterward. Wash the small hair on the head as well as on the body.
Read more on how to make your baby's hair grow.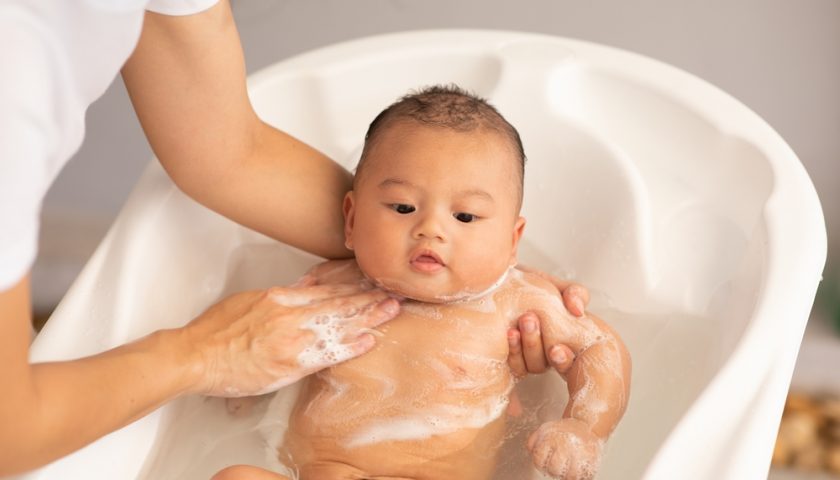 Gentle on the Private Parts
Use a clean and soft cloth, a gentle soap, and lukewarm water in that matter. If you have a girl, wash the area from front to back and remember to wipe between the skin folds.
If you have a circumcised boy, then wipe the penis gently. If not circumcised then do not pull the foreskin.
It is best to use tear-free shampoo to give a bath in case you are wondering.
When to Visit Healthwire
As first-timers, a lot of people can make a mess giving their baby's first bath due to a lack of experience. And a lot of people give the best bath of their lives to their baby on the first try. If there are still some questions or ambiguities that you want an answer to, then it is best to see the best child specialist near you by contacting Healthwire.