Best Female Aesthetic Physician in Islamabad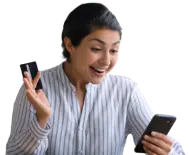 Get 10% Discount
On Your Online Payments
Book an appointment with doctor and pay online to get flat 10% discount.
1 Female Doctors available in Islamabad
Also known as Doctor of Aesthetic Medicine, Cosmetic Doctor, Cosmetologist, Aesthetic Medicine Consultant, Aesthetic Medicine Doctors and جمالیاتی دوائی کے ماہر
Sort by :
Zero Waiting Time
Cosmetologist • Aesthetic Physician • Dermatologist | MBBS,FCPS,AAAM
FEATURED DOCTOR
Skinsmith ( F 11 ) Rs 2000
Dr. Mahvish is nice and understanding, hope my disease will be treated well after biopsy.
Need Help?
If you face any issue, feel free to contact us. We provide 24/7 support to assist your problems