Top Certified audiologist in Gulberg Town, Karachi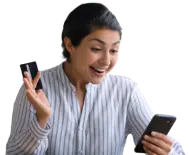 Get 10% Discount
On Your Online Payments
Book an appointment with doctor and pay online to get flat 10% discount.
1 Doctor of Audiology available in Gulberg Town
Sort by :
Need Help?
If you face any issue, feel free to contact us. We provide 24/7 support to assist your problems
Find Best Audiologists in Gulberg Town, Karachi
Gulberg Town is a diverse, densely populated area of Karachi. Thousands of people seek medical help for their hearing and ear balance issues on a daily basis in Karachi which makes Gulberg Town a primary location for healthcare centres, hospitals and doctors.
Audiology is one of the most in-demand specialities of Gulberg Town,Karachi. There are many well-experienced audiologists practicing in Gulberg Town,Karachi and have patients coming from all over the city to them. You can now connect with audiologists nearby through Healthwire.
Services Offered by Audiologists in Gulberg Town, Karachi
Audiologists in Gulberg Town, Karachi deals with their patients very professionally, ensuring their complete privacy and thorough diagnosis.
Doctors of Audiology in Gulberg Town, Karachi are offering these major services to their patients.
Some of the major treatments and services offered are as follows:
Complete hearing examination
Fitting and adjustment of the hearing aid
Tinnitus treatment
Hearing sensitivity treatment
Hearing plus speech rehabilitation programs
Speech-language disorder and diseases treatment
Book an Appointment with Best Audiologists in Gulberg Town, Karachi
Book your appointment with the listed male and female audiologists in Gulberg Town, Karachi with Healthwire, who will provide you with the best audiology services. Book an appointment with top audiologists in Gulberg Town Karachi, by calling at [042-32500989/021-37130261]. You can also schedule your appointments with the doctors by booking Online Appointment through our website or by downloading the Healthwire app.
Audiologists in Top Hospitals of Gulberg Town
Audiologist in Top Cities of Pakistan
Frequently Asked Questions (FAQs)
What is the fee range of the Dermatologist in Karachi?
Depending upon the doctor's practicing hospital, education and experience, the fee for a consultation with a Dermatologist is between 500-3000 (PKR).
How can I book an appointment with the top Dermatologist in Karachi?
To book an appointment, find the list of the top Dermatologist in Karachi or call 04232500989. You can also opt for the video consultation anywhere in Pakistan with the Dermatologist, subject to their availability hours.
How can I find the best Dermatologist near me in Karachi?
Visit Healthwire or download the healthwire app to get connected with the best Dermatologist near you in Karachi.
How can I find the most experienced Dermatologist in Karachi?
To connect with the most experienced Dermatologist in Karachi visit Healthwire. Search for the speciality you are looking for, and you'll be directed to a list of Dermatologist in the Karachi. Visit the doctor's profile to review the experience of any doctor.
How do I choose a Dermatologist?
Finding and connecting with a good doctor is important for proper diagnosis and treatment. You need to consider the following points before you visit a doctor:
Make sure the doctor is PMC verified
Make sure the doctor is experienced
Check for the reviews about the doctor
Check the services that the doctor is offering
Check the hospital in which the doctor is practicing